The Vampire and the Virgin (Love at Stake #8) by Kerrelyn Sparks
Release Date:
March 9, 2010
Genre:
Adult, Romance, Paranormal
Publisher:
Avon
Pages:
384
Format:
Paperback
Source:
Purchased by Reviewer
Goodreads
Amazon
(3 out of 5)
Olivia's packing list:
1. Sunscreen
2. Bathing suit
3. Flip-flops
FBI psychologist Olivia Sotiris was looking for a cool ocean breeze, sand between her toes, and a break from her crazy, chaotic, and sometimes all-too-dangerous life. But when she escaped to the small Greek island of Patmos, all she got were meddling grandmothers trying to marry her off. Can't they see that none of the men around interests her—except Robby MacKay?
Robby's packing list:
1. Synthetic blood
2. More synthetic blood
3. Jogging clothes
(even vamps have to stay in shape!)
Robby needs to cool off, too, since all he can think about is revenge on the Malcontent bloodsuckers who once held him captive—but then he meets Olivia, the beauty with wild curls and a tempting smile. When a deadly criminal from a case back home tracks her down, Robby will have to save her life—along with giving her a first time she'll never forget . . .
Kerrelyn Sparks's Love at Stake series continues with The Vampire and the Virgin—as a battle-weary immortal finds true love while on a well-deserved vacation. Funny, dark, and sexy, this eighth paranormal romance from the New York Times and USA Today bestselling author is proof (O) positive that Sparks is going stronger than ever! Charlaine Harris/Sookie Stackhouse/True Blood aficionados will eat this one up. No time is better than now to drink in the heat and the humor of Kerrelyn Sparks—and to learn why Lynsay Sands (of the Argeneau vampire family novels fame) calls Sparks, "An absolute delight!"
So, I feel like it's necessary to describe the process of how I choose these novels. It's simple, really: I go into Half-Price with Emily and we go to the Romance section and pick the most ridiculous titles and/or covers. This one was both. I mean, how could I avoid
that
cover/title? It practically sang to me!
Like most of these novels, I was pleasantly surprised that it had a coherent and somewhat captivating plot. That wasn't meant to be a shaded insult...but that's what it sounds like—sorry! But really, it wasn't that bad. I mean—I was blushing for about half of it (it doesn't take much to make me blush—hell, I don't even have to be embarrassed or flustered to blush), but it was pretty entertaining.
Robby MacKay falls in love with the saucy and independent Olivia Sotiris, a FBI agent. He is
soulless
ginger. He is sexy. And he is a 300 year-old creature of the night. Who would've guessed?
Olivia, as aforementioned, is an FBI agent. However, she has a special ability: she's an empath. She is able to tell when someone is lying and, in general, what emotions they are feeling. But for some inexplicable (coughhe'sdeadcough) reason, her abilities do not work on the oh-so-sexy Robby. Can she love someone blindly?
Of course she can! That's the entire point of this book!
Anyway, they meet on the Greek island of Patmos and almost instantly fall in love. But as fate would have it, before they can fully consummate their eternal love for one another, a serial killer who is obsessed with Olivia forces her to flee from Patmos. The (hardly) star crossed lovers are separated for close to a month before they are able to contact each other again. As their long-distance relationship grows more serious, Robby feels the weight of his lie profoundly. Can he tell her what he is and still keep her?
Okay, so I don't know all the vampire lore, but I'm pretty sure this book took a few liberties. And some of the logistics just don't add up. Emily, I expect your bulls@$t-science detector would go haywire and you would look like this for about 33.3333% of the story: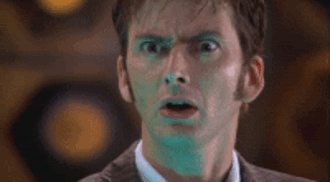 But I also didn't realize this novel was part of a series, so maybe things have been explained earlier on. I'll give Sparks the benefit of the doubt on that one.
But yeah, this actually was a decent plot. It could be cheesy at times, but I thoroughly enjoyed it. Well...I get squeamish pretty easily, so I was super uncomfortable during parts. But that is a personal thing.
I can't say I have a long narrative about this book, though. It was entertaining, and that was about it for me. If nothing else, I recommend you read it for that title. I mean, how could you not read it? It says
exactly
what it's about!
I'm sorry I don't have more to say about it; I really wish I could offer you guys more of a review, but I'm just at a loss for words about it.
Love ya, darlings!
About the Author
Kerrelyn Sparks' first paranormal romance,
How to Marry a Millionaire Vampire
, zoomed out of the bat cave so fast it became Borders bestselling debut romance of 2005. Each book in the
Love at Stake
series has become a
USA Today
bestseller. When the fourth book,
The Undead Next Door
, landed on the
New York Times
bestseller list, even the Undead sat up and took notice, which made Kerrelyn a bit nervous. She lives in the Greater Houston area with her husband, children, and a house full of garlic. So far, there are no vampires in her family. Werewolves are another matter entirely.