Hopeless (Hopeless #1) by Colleen Hoover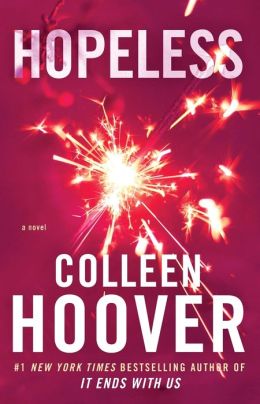 Release Date:
December 17, 2012
Genre:
New Adult, Contemporary, Romance
Publisher:
Atria Publishing
Pages:
488
Format:
eBook
Source:
Purchased by Reviewer
Goodreads • Amazon
Sometimes discovering the truth can leave you more hopeless than believing the lies…
That's what seventeen-year-old Sky realizes after she meets Dean Holder. A guy with a reputation that rivals her own and an uncanny ability to invoke feelings in her she's never had before. He terrifies her and captivates her all in the span of just one encounter, and something about the way he makes her feel sparks buried memories from a past that she wishes could just stay buried.
Sky struggles to keep him at a distance knowing he's nothing but trouble, but Holder insists on learning everything about her. After finally caving to his unwavering pursuit, Sky soon finds that Holder isn't at all who he's been claiming to be. When the secrets he's been keeping are finally revealed, every single facet of Sky's life will change forever.
Hopeless
was one of those reads that I just couldn't escape. It was recommended to me on virtually every book-centric platform I participate on, and it only seemed to show up with more frequency the more books I read. It got to the point that I figured I
had
to give it a shot, and I'm so glad I did.
Sky is, at best, a participant in her own life. She moves through it with a level of apathy and lack of connection that is jarring and intriguing in the same moment. At times, she seems to be an entirely normal (read: bizarre and weird but built that way) teenager. Others, there's a layer to her that's shrouded in mystery. Something that just doesn't click and might just explain those feelings of discord she occasionally brings about as you read.
Then she meets Holder. And for the first time in as long as Sky can remember, she's
feeling
things again. At first, it seems like all they have in common are shared poor reputations among their peers. Then, gradually, she starts to feel a growing connection to her fuzzy past. The more time she spends with Holder, the more she starts to think he's hiding something from her and wonder what exactly it could be.
The progression of their relationship combines a number of different elements. There's a sweetness that comes from their lack of histories where meaningful relationships are concerned. There's subterfuge with regards to what Holder isn't telling Sky. There's the complexity that comes with the mystery of how they're connected. It all comes together to make you swoon and sweat and want them to work it out
so badly
.
The two experience their ups and downs from an early point in the story. When they finally seem to be on solid footing with regards to their feelings for each other, Holder's secrets come to a head. And what he has to say begins a slow build to what will ultimately bring devastation.
Because that's not the end of it. The first reveal is only one in a series of steps to uncovering the truth. And by the time the last layer is pulled back...there are hardly words to describe it.
The final reveal in this book is flawlessly done to exact maximum impact. I'm talking about the kind of reveal you start to see coming, but continue to deny because it would be too gut-wrenching. Even as it becomes more and more clear what's going on, you'll want to deny it. You'll want to look the other way, turn out the lights, and hide under the proverbial covers. You'll want to fight it, tooth and nail, until the moment that you're exhausted, out of excuses and alternatives, and have to face what's right in front of you. But, even though you
knew it
, saw it coming and just didn't want to believe it could be real, it's like a punch to the gut and a vice on your insides.
Am I being a little melodramatic? Perhaps. But,
damn
, if this wasn't exactly what I went through while I was reading. I have intense, visceral memories of actively and out-loud denying what I was reading, because what happened to Sky...it's just the lowest of what humanity is capable of doing. It made me feel ill and cry and just want to scream as the pieces of her history were revealed. This is
not
an easy read. It is
not
something I would recommend to everyone. If you can make it through, though, the end is worth it.
Because, at it's core,
Hopeless
is a story of healing. It's a story about what it takes to pick up the pieces and move yourself forward when your very foundation has been soundly cracked and ripped apart. With Holder's help, Sky begins to overcome what could for some be an insurmountable tragedy in a beautiful example of human triumph.
You can probably tell from the touchy-feely review, but I have
a lot
of love for this book. It comes with just a little bit of hate as well. Not for the story or the characters or anything related to the story in that way, but I kind of hate the story itself. Only because it wrecked me, in that I know this could've happened to someone and that
hurts
. It just does. To the point that it's painful to think about, even far removed from reading it. The hurt is so good, though. The kind of pain that will bring you back for seconds, thirds...as much as you can get.
If you are a fan of the emotional, romantic drama this could be an amazing pick. This is the kind of book lovers of
Wait for You
by Jennifer Armentrout and/or
Easy
by Tammara Webber would likely enjoy, but it's possibly even more heartbreaking. If you're looking for a hugely engaging (perhaps to the point of temporary emotional combustion) read that may just give you a cathartic release for the ages, be sure to check out
Hopeless
!
About the Author
Colleen Hoover is the author of five New York Times bestselling novels. Her first series was published in 2012 and includes
Slammed
,
Point of Retreat
and the companion novel
This Girl
. Her second series, published in 2013, includes the #1 NYT's bestseller
Hopeless
and the companion novel,
Losing Hope
. She has released a free novella,
Finding Cinderella
, as a thank you to her readers for their continued support. The novella is a companion to her
Hopeless
series, but can be read as a standalone.