Tangled (Tangled #1) by Emma Chase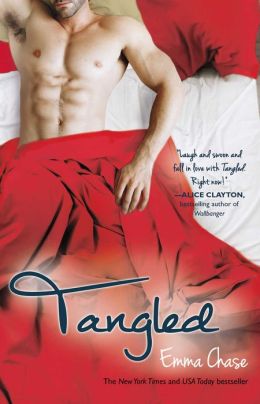 Release Date:
May 20, 2013
Genre:
Contemporary, Romance, Comedy
Publisher:
Gallery Books
Pages:
254
Format:
eBook
Source:
Purchased by Reviewer
Goodreads • Amazon
Drew Evans is a winner. Handsome and arrogant, he makes multimillion dollar business deals and seduces New York's most beautiful women with just a smile. He has loyal friends and an indulgent family. So why has he been shuttered in his apartment for seven days, miserable and depressed?
He'll tell you he has the flu.
But we all know that's not really true.
Katherine Brooks is brilliant, beautiful and ambitious. She refuses to let anything - or anyone - derail her path to success. When Kate is hired as the new associate at Drew's father's investment banking firm, every aspect of the dashing playboy's life is thrown into a tailspin. The professional competition she brings is unnerving, his attraction to her is distracting, his failure to entice her into his bed is exasperating.
Then, just when Drew is on the cusp of having everything he wants, his overblown confidence threatens to ruin it all. Will he be able untangle his feelings of lust and tenderness, frustration and fulfillment? Will he rise to the most important challenge of his life?
Can Drew Evans win at love?
Tangled is not your mother's romance novel. It is an outrageous, passionate, witty narrative about a man who knows a lot about women…just not as much as he thinks he knows. As he tells his story, Drew learns the one thing he never wanted in life, is the only thing he can't live without.
When I first stumbled across
Tangled
, I was most intrigued by the concept of a romance novel entirely narrated by the male lead. It's certainly not the most common choice. Add to that the quality and hilarity of said narrative, apparent even in the synopsis and other small snippets I read before purchasing, and it seemed like a no-brainer choice. Drew seemed to by far be the shining star of his story, a concept I know he would 100% get behind.
And I wasn't wrong. There's something about him that feels so real. He is absolutely what set the story apart for me. His inner monologue was entertaining as all get-out and felt incredibly realistic and raw. Even in the context of a through and through romance, having what comes across as an honest male narrative serves to elevate
Tangled
to feel different than all of the other books saturating this area of the market. Because, while there
are
great romances out there, often times the majority seems to fall in the mediocre and below categories. Drew and the spin he brings to the story, in my opinion, help to catapult this book to the top tier of that heap.
There were moments that I laughed out loud (serious,
for real
lol-ing) at the humorous way in which Drew told his story. His voice is incredibly funny, blunt and unapologetic, which made virtually every comedic move hit home for me. Sometimes it was funny just because he was such an alpha-male type
man
, and seeing him try to navigate the waters of infatuation was a beautiful justice. But there was also a level of vulnerability to him as the story progressed that grounded him. This seemingly unflappable, strong, in-control guy was brought down by the same romantic devastation female protagonists often experience within the romance genre. And yet, throughout the entirety of his breakdown, the humor is perpetuated by a steadfast denial that he's suffering from anything more than the flu. A likely story...
Of course, his leading lady, Kate, also deserves a mention. She is certainly the perfect counterpart to Drew: a strong, capable personality, both personally and professionally, that matches his own. If the chemistry between them when they first meet sizzles, it lights on
freaking fire
when she ends up being a new associate at Drew's dad's firm. And it only builds from there. Even as Kate remains steadfast and faithful in her previous, long-term relationship, the tension between her and Drew mounts to the point that I was almost rooting for her to say "screw it." Almost.
I am, after all a steadfast supporter of fidelity and monogamy. Boring, I know.
The moment when things start to happen—the right way to boot—is beyond satisfying. As the romance kicks up, the heat flies off the charts, making for steamy scenes that are...let's say
effective
.
Indescribably so.
For a few blissful moments, everything is perfect. These two have a dynamic that runs the full romance gambit: sweet, sexy, challenging, and more. You'll find yourself basking in the glory of their one perfect weekend right along with them. Which just makes it all the more saddening when that weekend comes to an end.
And that end is brought about by a painfully obvious misunderstanding—one that makes you want to physically shake whatever book/e-reader/what-have-you you're reading in lieu of doing so to Drew himself. Because it's
all
his freaking fault. But it brings about the "flu" and you can't help but feel sorry for him as a result.
Of course, that just makes the moment he steps up all the more satisfying.
Because Drew, our just-maybe-reformed playboy, might just master the grand gesture to win back his perfect match. And by might, I totally mean will. And it feels
so good!
If you are a romance fan already,
Tangled
is not to be missed. This story is, in my opinion, the best of what the genre has to offer. It has the heat and the swoon-factor, but without taking itself too seriously. The humor element is possibly the strongest part of the story overall, and it was definitely one of my favorite parts as I was reading. If you're not currently a romance fan, then this may be exactly the book to convince you that there's more to the genre than its reputation often suggests. As someone who both loves romance and understands why people tend to disregard and turn their noses up at it, finding a book like
Tangled
that can really showcase all the genre is capable of bringing to the table is special to me. If you haven't already given this a shot, you definitely should!
About the Author
By day, Emma Chase is a devoted wife and mother of two who resides in a small, rural town in New Jersey. By night she is a keyboard crusader, toiling away the hours to bring her colorful characters and their endless antics to life. She has a long standing love/hate relationship with caffeine.
Emma is an avid reader. Before her children were born she was known to consume whole books in a single day. Writing has also always been a passion and with the 2013 release of her debut romantic comedy,
Tangled
, the ability to now call herself an author is nothing less than a dream come true.