Champion (Legend #3) by Marie Lu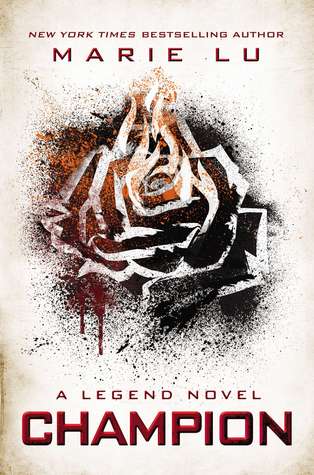 Release Date:
November 5, 2013
Genre:
Young Adult, Dystopian, Science Fiction
Publisher:
Putnam
Pages:
384
Format:
Hardcover
Source:
Purchased by reviewer
Amazon•Goodreads
June and Day have sacrificed so much for the people of the Republic—and each other—and now their country is on the brink of a new existence. June is back in the good graces of the Republic, working within the government's elite circles as Princeps-Elect, while Day has been assigned a high-level military position.
But neither could have predicted the circumstances that will reunite them: just when a peace treaty is imminent, a plague outbreak causes panic in the Colonies, and war threatens the Republic's border cities. This new strain of plague is deadlier than ever, and June is the only one who knows the key to her country's defense. But saving the lives of thousands will mean asking the one she loves to give up everything.
With heart-pounding action and suspense, Marie Lu's bestselling trilogy draws to a stunning conclusion.
Almost a year after the events of
Prodigy
concluded, Day and June have maintained radio silence. Day has a position of command in the military, while June is in the running to become the Princeps-Elect, and everything seems like it's quieted down.
But of course it hasn't; otherwise we wouldn't have this gem that is the conclusion to the
Legend
series.
I realized that I failed to put into words what exactly differentiated Lu's series from most dystopians. I think it's because I honestly couldn't put a finger on it until now.
In a typical dystopian novel we get to see the corrupt, antagonistic government (the Republic) from the eyes of our rebellious protagonist (Day), who fights to topple the pernicious regime. That is the trope--and it is in some way, shape or form fulfilled by every dystopian novel I've ever encounter. Which is fine, really, I like that sort of thing. I'm a proponent of the underdog archetype. But I don't think I've ever come across a series wherein you get to experience the misaligned society from the perspective of an insider. At least not an insider that you are meant to sympathize with and eventually root for.
So basically, June makes this series what it is. She is the character that I followed and supported straight from the beginning--mainly because I didn't think she was an idiot, but also because she carried such conviction it was difficult
not
to be swayed by her ideals.
I'm also just
slightly
more inclined to be patriotic rather than revolutionary. What?! I like order.
Furthermore, it's unique that we find ourselves rooting for the government we were conditioned to despise from the beginning. I think it speaks volumes about Lu's story crafting that she strayed from the conventional "let's start a rebellion and join that stupidly ideal society right over there." It rings more true and somber that Day and June realize that their imperfect society is a better option than the enemy (the Colonies). The grass is
not
always greener on the other side; and a corrupt, yet reforming, government is often better than no government.
Although June's trust is deeply misplaced in the first novel and she is made out to be some kind of turn-coat in the second, I'm excited that we finally get to see her in a kinder light.
Champion
allows us to view June in a non-biased setting. She is finally fighting for the right side and nobody is trying to tell her otherwise. And naturally, she kicks @$$.
Am I a fangirl? Why, yes--yes, I am.
Quick synopsis
(MILD SPOILERS?)
: Fighting breaks out. June and Day must work together again. Romantic tension. Eden is brought into the mix. Science. Is this government worth fighting for (again)? June: Yes. Day: I'm not so sure. Romantic tension. Allies? We need allies. Science. Explosions. Science. Romantic tension. Plot twist. Resolution. Will they stay together (aka: Romantic tension)? Wait, didn't Day have [
SPOILER]
? I don't know, you'll have to read the book to find out.
Did I enjoy the final installment in the
Legend
series? I think my 5-stars answers this adequately. But for the sake of being redundant. HOLY COW, I LOVED THIS BOOK! THE FIGHTING, THE TENSION, THE ENDING--I LOVED IT ALL!
If you read the first two and were satisfied but not impressed, I think
Champion
will rectify that issue. I was completely satisfied, if not a little traumatize (though slightly uplifted). It was a beautiful ending.
So please, go read this. Tell me what you think. I'd like to have a coherent discussion about this series.
Later, loves!
About the Author
I write young adult novels, and have a special love for dystopian books. Ironically, I was born in 1984. I like food, fighter jets, afternoon tea, happy people, electronics, the interwebz, cupcakes, pianos, bright colors, rain, Christmas lights, sketches, animation, dogs, farmers' markets, video games, and of course, books. I suck at working out. I also get lost very easily, but am a halfway decent driver. At least, I like to think so. :)
I left Beijing for the States in 1989 and went off to college at the University of Southern California. California weather sweet-talked me into sticking around, so I'm currently in Pasadena with my boyfriend, two Pembroke Welsh Corgis, and a chihuahua mix. In my past life, I was an art director in the video game industry, but now I write full-time.