Scarlet (The Lunar Chronicles #2) by Marissa Meyer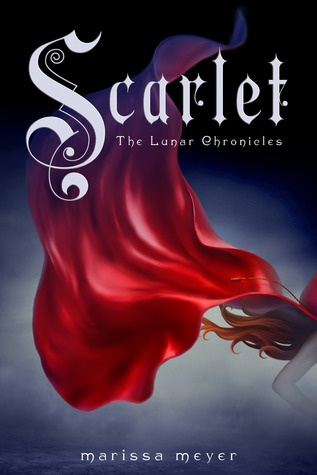 Release Date:
February 5, 2013
Genre:
Young Adult, Science Fiction
Publisher:
Square Fish Books
(
Macmillan
)
Pages:
512
Format:
eBook
Sources:
Purchased by Reviewer
Goodreads • Amazon
Cinder, the cyborg mechanic, returns in the second thrilling installment of the bestselling Lunar Chronicles. She's trying to break out of prison--even though if she succeeds, she'll be the Commonwealth's most wanted fugitive. Halfway around the world, Scarlet Benoit's grandmother is missing.
It turns out there are many things Scarlet doesn't know about her grandmother or the grave danger she has lived in her whole life. When Scarlet encounters Wolf, a street fighter who may have information as to her grandmother's whereabouts, she is loath to trust this stranger, but is inexplicably drawn to him, and he to her.
As Scarlet and Wolf unravel one mystery, they encounter another when they meet Cinder. Now, all of them must stay one step ahead of the vicious Lunar Queen Levana, who will do anything for the handsome Prince Kai to become her husband, her king, her prisoner.
So yeah, I'm assuming you've read Cinder in the short period of time between that review and this one. If not, well you probably shouldn't have read the synopsis above. And you should probably stop reading...right now. Unless you don't mind spoilers, then, by all means, continue.
We left off with Dr. Erland dropping off a new state of the art foot and hand and a not so jaw dropping revelation (for us). Realizing what her true identity entails, Cinder makes good on her promise to escape and picks up a new companion along the way, the charmingly daft Captain Thorne. The American rogue. Who is by far my favorite.
What can I say? I have a thing for pirates.
Thousands of miles away in Toulouse, France, Scarlet Benoit is searching for her grandmother, whom nobody seems to care about. In the midst of all the confusion with Cinder's escape and the threat of a Lunar war, she meets a shy-looking street fighter who simple refers to himself as Wolf.
That's right ladies and gents, we have ourselves a Little Red Riding Hood interpretation. I'm going to be honest, Little Red Riding Hood has never been my favorite, nor do I keep up with the new interpretations of it. However, I think that making Red a kick-ass wolf hunter is a trope.
Scarlet is less of a wolf hunter, but she is pretty kick-ass.
Wolf offers Scarlet his assistance to find her grandmother, hinting that he may have an idea of who has taken her. And, well, the rest is kind of spoilers, so let's just say she accepts.
Meanwhile, Cinder is searching high and low for any information about her childhood--the times she can't remember before her surgery--and she finds out more than she might've wanted to.
So, the second installment of The Lunar Chronicles is still wonderful and exciting and everything that Cinder was, but it definitely felt like a transitional novel. Don't get me wrong--I love the characters, but the plot wasn't as...well, I can't really specify what it was that bothered me.
It was good--don't misinterpret my hesitancy--but I felt like something was missing. I still consider it a page-turner and definitely highly recommend it, but I just want to let you guys know that I felt like something was off. Maybe it's just that I'm not a fan of the original story. Actually, that's really probably it. So don't worry about it.
Anyway--keep reading the series! The third and most recent installment, Cress, is awesome. Expect the review soon, because I'm going to write it as soon as I finish this sentence!
About the Author
Marissa Meyer is the New York Times bestselling author of The Lunar Chronicles. She lives in Tacoma, Washington, with her husband and three demanding cats. She's a fan of most things geeky (Sailor Moon, Firefly, any occasion that requires a costume), and has been in love with fairy tales since she was a child. She may or may not be a cyborg.