Cress (The Lunar Chronicles #3) by Marissa Meyer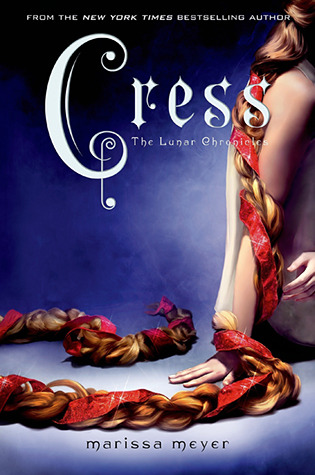 Release Date:
February 4, 2014
Genre:
Young Adult, Science Fiction
Publisher:
Feiwel & Friends
(
Macmillan
)
Pages:
560
Format:
eBook
Source:
Purchased by Reviewer
Goodreads • Amazon
In this third book in the Lunar Chronicles, Cinder and Captain Thorne are fugitives on the run, now with Scarlet and Wolf in tow. Together, they're plotting to overthrow Queen Levana and her army.
Their best hope lies with Cress, a girl imprisoned on a satellite since childhood who's only ever had her netscreens as company. All that screen time has made Cress an excellent hacker. Unfortunately, she's just received orders from Levana to track down Cinder and her handsome accomplice.
When a daring rescue of Cress goes awry, the group is separated. Cress finally has her freedom, but it comes at a high price. Meanwhile, Queen Levana will let nothing prevent her marriage to Emperor Kai. Cress, Scarlet, and Cinder may not have signed up to save the world, but they may be the only hope the world has.
The wedding between Emperor Kai and Queen Levana is just around the corner. Cinder has a plan, interrupt the wedding and save Kai from Levana's evil (but probably perfectly manicured) hands. But first, she needs the help of the only Lunar hacker she knows: the adorable, socially awkward Cress.
Let's just talk about Cress. Because I love her. For someone who spent seven, pretty formative years of her life in almost complete isolation, she is surprisingly sane. Extremely socially awkward, but sane. Also brilliant. And she has a mile-long crush on Thorne, which I can totally relate to. I'd like to think that she and I would be home gurlz.
But seriously, her back story is heart-wrenching. Her mistress, the right-hand thaumaturge of Queen Levana, has kept her stranded in a satellite, doing odd-jobs for Her Majesty. She has been emotionally abused for seven years, and I think it speaks volumes about Cress that she hasn't broken under her circumstances. And think about the courage it must have taken for her to reach out to Cinder in the first book. She is the understated heroine who dreams of adventures and stories, but cannot see that she is braver than any hero she has ever read about--that she is creating her own hero's journey. It is endearing, and--maybe I'm getting too sentimental--but I think it's a testament that even the most timid of people can accomplish great feats.
She is the Neville Longbottom of
The Lunar Chronicles.
Bless her, I'm getting all weepy-eyed. It's too much--I'm getting all the feels.
Back to the plot: in exchange for her help, Cress stipulates that Cinder and the gang have to rescue her from her solitary satellite. In case you can't tell, this is the Rapunzel interpretation of the series. And yes, her hair. Oh my gosh, her hair.
Gah! I want to tell you guys what happens, but I hate giving spoilers. Suffice it to say that Cress and Thorne are just so freaking cute it hurts. I was just dying from their cuteness.
This novel is definitely more action-packed than its predecessor. From daring escapes to Lunar showdowns to crashing a royal wedding, it is one heck of a ride. And I have to say that
Cress
might be my favorite out of the series.
I think it brilliantly showcases the best of each character: Thorne's eternally optimistic and roguish nature, Cinder's quiet, yet unwavering determination in the face of opposition, Wolf's loyalty, Iko's humor and Dr. Erland's determination to right his wrongs.
The end of this novel is also heart-breaking. It gives you a glimpse of Princess Winter's (the protagonist of the final book) life, and the terrifying reality that she faces everyday so she won't be like her step-mother. It's certainly disconcerting, but I am so excited for when it comes out. Everything's pointing to a fantastic conclusion to what has been the best series I've come across in a while.
If nothing else, I hope I've at least conveyed my enthusiasm about this series. Seriously, they're great books, and I hope some of you guys get a chance to read them.
So go read! Go relive your childhood with a fantastic twist!
About the Author
Marissa Meyer is the
New York Times
bestselling author of The Lunar Chronicles. She lives in Tacoma, Washington, with her husband and three demanding cats. She's a fan of most things geeky (Sailor Moon, Firefly, any occasion that requires a costume), and has been in love with fairy tales since she was a child. She may or may not be a cyborg.