Legend (Legend #1) by Marie Lu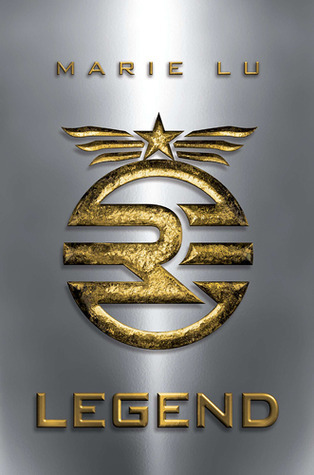 Release Date:
November 29, 2011
Genre:
Young Adult, Dystopian, Science Fiction
Publisher:
Putnam
Pages:
336
Format:
Hardcover
Source:
Purchased by Reviewer
Goodreads •
Amazon
What was once the western United States is now home to the Republic, a nation perpetually at war with its neighbors. Born into an elite family in one of the Republic's wealthiest districts, fifteen-year-old June is a prodigy being groomed for success in the Republic's highest military circles. Born into the slums, fifteen-year-old Day is the country's most wanted criminal. But his motives may not be as malicious as they seem.
From very different worlds, June and Day have no reason to cross paths - until the day June's brother, Metias, is murdered and Day becomes the prime suspect. Caught in the ultimate game of cat and mouse, Day is in a race for his family's survival, while June seeks to avenge Metias's death. But in a shocking turn of events, the two uncover the truth of what has really brought them together, and the sinister lengths their country will go to keep its secrets.
Full of nonstop action, suspense, and romance, this novel is sure to move readers as much as it thrills.
Legend is in it's own category as a dystopian, I think. Centuries ago, floods plagued the US and eventually causing a chasm to form between the Eastern and Western states. In the western half, now referred to as the Republic, is a militarized zone.
Divided amongst strict echelons, each citizen must take the Trial at age ten to determine their place. The highest scoring receive the best education and proceed to pursue either a political or military profession. Those who receive a moderate test score get some education, their college is selected for them, and they take more functional jobs. Low scorers get little to no education and get the menial jobs of society.
Those who fail are killed.
Enter Day: our mysterious protagonist who failed his examination, but miraculously lived through the horrific experiments the Republic conducted on him. Well...not according to the records. Officially, he died five years ago.
Taking his aggression towards the Republic to the streets, Day is now a vigilante--a legend among the people. He does anything in his power to fight against the Republic military and bring justice to the poor sectors of his city (which is LA). So when Republic soldiers do a sweep of his home sector and marks his family's door with a strange three-lined X, signifying it's a plague house, he sets out to get some cures conveniently housed in the military hospital.
When his operation goes south, he has to go on the run again...but this time, he has the Republic's golden girl on his tail.
June is the only person to ever score a perfect score on the Trial. Serving as a special agent, she is given free-reign to track down the notorious criminal. Using her training and her natural intellect, she gives him the most elaborate game of cat and mouse he has ever had a part in...except he doesn't even realize that the prodigy is tracking him down.
Naturally, their paths cross, sparks ensue and the rest is history!
I really enjoyed this story. Where good there is no distinct good or bad side--it's all a matter of perspective. Marie Lu has definitely given this series a lot of thought. As a former art director in the video game industry (consider me jealous, by the way), Lu has a very keen ability to describe a scene. Her imagery is pervasive, vibrant and really adds to the style.
The only aspect of the story that constantly throws me for a loop is when I remember that June and Day are both fifteen. And that really shouldn't confuse me, because it's a YA novel, but for some reason it just irks me. They don't act fifteen--they act like they're in their twenties. Granted, they are not average teenagers and their childhoods certainly aged them beyond their years.
Also--this doesn't really bother me, just terrifies me--the concept of a standardized test determining your place in society is hardly novel, but it was something that disturbed me. I thought that the SAT determining where you go to school was bad enough, but for it to categorize your entire social status? That is the stuff of high school nightmares....
For all the dystopian lovers (and I know there are a lot of you folk out there), this is definitely a must-read!
About the Author
I write young adult novels, and have a special love for dystopian books. Ironically, I was born in 1984. I like food, fighter jets, afternoon tea, happy people, electronics, the interwebz, cupcakes, pianos, bright colors, rain, Christmas lights, sketches, animation, dogs, farmers' markets, video games, and of course, books. I suck at working out. I also get lost very easily, but am a halfway decent driver. At least, I like to think so. :)
I left Beijing for the States in 1989 and went off to college at the University of Southern California. California weather sweet-talked me into sticking around, so I'm currently in Pasadena with my boyfriend, two Pembroke Welsh Corgis, and a chihuahua mix. In my past life, I was an art director in the video game industry, but now I write full-time.