Shadow and Bone (The Grisha #1) by Leigh Bardugo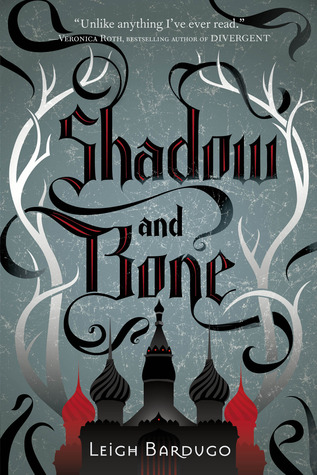 Release Date:
May 17, 2012
Genre:
Young Adult, Fantasy
Publisher:
Henry Holt and Co.
Pages:
372
Format:
Hardcover
Source:
Purchased by Reviewer
Goodreads • Amazon
The Shadow Fold, a swathe of impenetrable darkness, crawling with monsters that feast on human flesh, is slowly destroying the once-great nation of Ravka.
Alina, a pale, lonely orphan, discovers a unique power that thrusts her into the lavish world of the kingdom's magical elite—the Grisha. Could she be the key to unravelling the dark fabric of the Shadow Fold and setting Ravka free?
The Darkling, a creature of seductive charm and terrifying power, leader of the Grisha. If Alina is to fulfill her destiny, she must discover how to unlock her gift and face up to her dangerous attraction to him.
But what of Mal, Alina's childhood best friend? As Alina contemplates her dazzling new future, why can't she ever quite forget him?
Glorious. Epic. Irresistible. Romance.
Um, yes. Yes, please.
This book was absolutely fantastic and I loved every freaking page of it. (Shout out to Emily for recommending it to me!)
So this book was just for me—like I quite possibly think it was made for me. Let me explain: Bardugo's world "Ravka" is set in an alternate universe that is widely based off of Tsarist Russia, and it's a fantasy. Have I mentioned I'm part Russian and that I have a Russian minor and that I definitely spent three months in Russia? Well I did. And like most Russophiles, I get giddy every time I get a chance to utilize my Russian skillz. (Yes, skillz with a "z"--because I'm that cool.)
Anyway, this fantasy is
amazing
. I found the concept fresh, even if I was imagining
Avatar: The Last Airbender
at some points. (The Grisha are basically benders, and it's pretty freaking awesome!)
This is pretty much what I picture when Summoners are described:
I can go into how there is a pretty poignant commentary on wealth distribution between classes, but honestly, who wants to hear about that? And also, I feel like an ass when I start to analyze books like that (to be clear: that doesn't mean I can't; it's just not my primary objective). To cut it short: it is easy to draw parallels between the gross gap between peasants and nobility from Tsarist Russia in this book. Though honestly, this entire book is a parallel to Tsarist Russia—there's even a Rasputin, oh yes there is!
So aside from my squealing about the implementation of Russian culture and words (that part made me pretty happy), the plot is wonderful. Bardugo's writing is vivid and imaginary and I swear to God, I'll be super disappointed if it doesn't eventually become a movie. There are many parts of this book that you can see so vividly, and I think it would translate to the screen in a lovely way.
Like every good YA novel, there is a romance. We all know that I'm not a huge romance person, so when I say I enjoyed it without being overwhelmed by it—that's practically the highest compliment I can give. But really, it was sweet and endearing and even a little complicated at points, but I was pleased when it ended the way I wanted. At one point, she has two suitors (of course she does) and she picks the more logical (in my opinion, you may differ on that point) option of the two.
And oh my gosh, the villain! I love me a good villain and this guy, this guy definitely delivered. Towards the beginning of the novel, you start to think that, "Oh, maybe he's not that bad of a guy." And then there are these hints, or tiny details that make you begin to think, "Ope nope! Run away, Alina! Run far away now; he's going to do something diabolical!" and she doesn't…for a while. Yeah, I know, vague description is vague; but trust me, he is a great villain, simply because he can charm the pants off of anyone! And my favorite kind of villain is the one who is dangerously compelling.
Moving on from that mess of an explanation, I just have to say if
Throne of Glass
and
Crown of Midnight
are your sort of books (like they are mine), then you absolutely must read these! They are a very similar feel, in my opinion.
So go! Read! Enjoy!

Check out the Siege and Storm review--expect Ruined and Rising to soon follow!
Do'svidaniya moi dorogiye! (God, I love how appropriate this sign off is!)
About the Author
Leigh Bardugo was born in Jerusalem, grew up in Los Angeles, and graduated from Yale University. These days, she lives in Hollywood, where she indulges her fondness for glamour, ghouls, and costuming in her other life as makeup artist L.B. Benson. Occasionally, she can be heard singing with her band, Captain Automatic.
She is the author of the New York Times Best Sellers,
Shadow and Bone
and
Siege and Storm
(Holt Children's/ Macmillan). The final book in the
Grisha Trilogy
,
Ruin and Rising
, will be published in 2014. She is represented by Joanna Stampfel-Volpe of New Leaf.